Dryer Repair in Brampton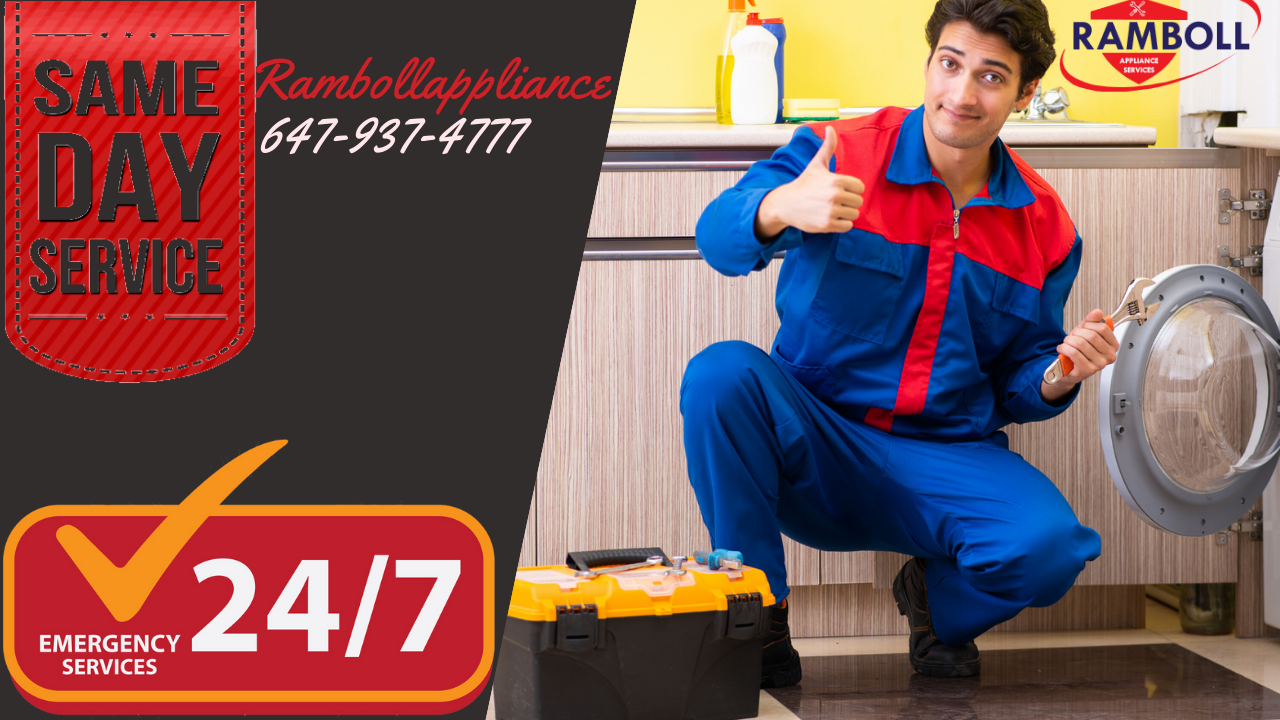 Want dryer repair solutions? Our professional service technicians are prepared to assist. Schedule a repair online or telephone 647-937-4777 to schedule now.
Before you decide to replace your dryer, call Ramboll Appliance to make it perfect. We provide the best appliance repairer in Brampton. Our services of dryer repair in Brampton are famous for accuracy and higher efficiency. Ramboll Appliance is a renowned appliance repair service provider in Brampton. Our services are extended in all the regions to numerous families. Quality repair work by our technicians helps families in keeping their dryers in the best shape.
We are a team of friendly and expert technicians committed to keeping your dryers up to date. Our technician arrives with the necessary tools and parts to fix the dryers at the very first visit. All our technicians are licensed and fully insured. They are highly skilled repairers passionate about delivering first-rate services to the customers. We are also a leading repairer of washers, dishwashers, and refrigerators. Ramboll Appliance also offers 24×7 emergency appliance repair services.

Dryer Problem Repair Services
Ramboll appliances offer the best services to repair all the significant and unusual dryer problems. Call us to get an accurate solution for all the below and other dryer problems.
1.Loud or unusual noise from the dryer.
2.Dryer giving unusual vibrations.
3. Dryer not heating up.
4.Dryer not running.
5. Dryer runs but clothes not getting dried.
6. Dryer shuts off before the cycle
7. Dryer got stopped due to overloading.
Ramboll technicians help your dryer live longer with actual repair work. We also provide regular and one-time dryer maintenance service. Our servicemen will also clean the vents and check the dryer for basic functionalities. We detect the problems quickly and fix them at the earliest.
Hire Best Dryer Repairer with Ramboll Appliance
If you need immediate and emergency dryer repair service in Brampton, call us. We have a skilled team of technicians very well trained and experienced to repair all types of dryers. We repair all the makes and models, including Bosch dryers, Samsung dryers, Whirlpool dryers, LG dryers, and all other popular makes.
Benefits of hiring us:
1. Dryers repaired by highly experienced technicians.
2. Satisfactory repair in a single visit
3. Quick replacement of damaged parts.
4. Affordable and transparent pricing.
5. The precise upfront cost for the customers.
6. Available to repair on any convenient day.
7. The friendly team of technicians.
8. Repair dryers of all the brands and models.
We are a renowned repairer in the Brampton region with experience in repairing numerous dryers. Our team is quick in detecting issues and accurate troubleshooting.
Replacement of all the failed parts like motors, gaskets, coils, valves, switches, and compressors is given immediately. We stock inventory of numerous parts of the dryers from major brands. If you are facing frequent troubles from your dryers, call Ramboll Appliance. We will fix the dryer and help you save the considerable cost of replacement.

Questions?

Do you have any questions? We've got answers
What are the cities Ramboll operates in?
You might be in almost any part of Brampton to avail of our services. We have an office in Brampton; we provide a free home pickup and drop service.
What kind of parts do you use for repairs?
We only use genuine, high-quality parts where possible. If original parts aren't accessible, we will supply the next greatest thing OEM parts from the very same factories which produce the parts. We'll advise you about the sort of spare parts used for service.
What payment methods do you accept?
We have several payment options:
1). Cash on delivery.
2). Payment through our payment gateway via netbanking or debit/credit card.
How does Ramboll work?
Put a service request via Phone number 647-937-4777. We see you personally, diagnose the appliance, and fix it – making the process entirely hassle-free for you.
What types of appliances do you service?
We service all types of major home appliances including but not limited to, freezers, cook tops, washers, dryers, dishwashers, disposals, refrigerators, ovens and ranges.
What is the approximate break-up of your charges?
After review, a quote is offered to you. All of us can't share the price upfront without our service due to the variations in services offered across different cities. Do I get a guarantee?
Our repairs carry a limited 30 days warranty.
Do you provide material and/or service warranty?
Warranty or guarantee on components can be found, as explained on the Appliance bill. Please insist on an Appliance invoice from the service supplier in the event of external appliance fees. Regarding support, there's a 30 days guarantee, such that in case an issue of the same character reoccurs, our providers will soon be free of charge.
Call our technicians if you notice any of the following:
Dryer overheating
Under heating
The tumbling mechanism has stopped working
Longer than usual dry time
Clothes are staying wet after the full cycle
Dryer Won't Stop
Dryer runs but no heat
Dryer no power at all
Dryer not working in automatic cycles
Dryer not working in timed dry cycle
Issues with the digital display
Error code on the electronic panel
Making unusual sounds such as grinding or squealing
Blown fuses, or tripping the circuit breaker regularly
Tearing or dirtying of clothing
Heat element on the dryer is gone
The machine will not start at all
Ramboll Appliances:
FAST, FLEXIBLE, AFFORDABLE RATES
PROFESSIONALLY TRAINED TECHNICIANS
Brands we Repair:
Fisher & Paykel Dryer Repair
White Westinghouse Dryer Repair
Request a service with Ramboll appliance today! 

GTA 905-595-3474.
Brands

We Service
We Care For You Home Appliances