Dishwasher Repair in Brampton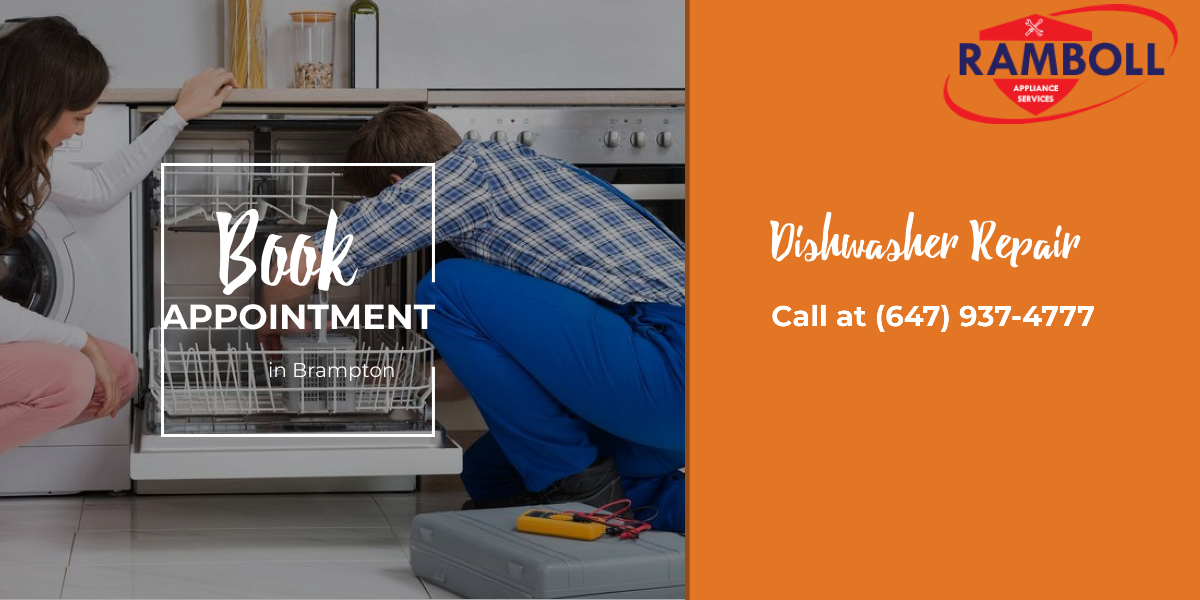 Want Dishwasher repair in Brampton solutions? Our professional service technicians are prepared to assist. Schedule a repair online or telephone 647-937-4777 to schedule now.
If your dishwasher is giving trouble during the functioning or not turning on, call Ramboll Appliance Service for a quick repair. We arrange a visit on the same day or at your convenience. The device may face technical troubles and part failures due to daily wear and tear. Delaying the repair of any machine can be damaging. Hence we have designed immediate, and emergency repair works for appliances.
Ramboll specializes in dishwasher repair in Brampton. We also offer installation services for newly purchased or disconnected dishwashers. All the issues, including minor technical faults and major breakdowns, are resolved up to optimum satisfaction. The right kind of resolutions to the technical and functional matters ensures a higher life expectancy for the appliances.
Dishwasher Repairing Services in Brampton
Improper Cleaning of the Dishes
Insufficient cleaning of the dishes is one of the significant problems detected while repairing dishwashers. We provide an accurate solution for such issues.
Dishwasher Not Turning On
A stuck dishwasher or a dishwasher not turning on is yet another common trouble. We solve all the issues like bad wiring, failed switch, and pump-related matters to start the machine.
Filling Up Issues
The appropriate level of water filling is exceptionally significant. If you are facing issues with insufficient overfilling of the water, call Ramboll Appliance for a quick resolution.
Draining Issues
If the water is not entirely getting drained out, the performance of the machine is affected. A clogged drain and any issue with the filter system may damage the device in the long term. We repair broken pumps and solve the improper functioning of the draining system of the dishwashers.
Water Leakage
Any water leakage with the dishwasher may create a mess for you. Our technicians carry out a thorough diagnosis and determine the cause of the leakage. Call us if you find water leaking from the dishwasher. We repair and also repair failed gaskets, pipes, and seals to solve different issues related to leakage.
Door Issues
Whether it is a dishwasher or a washing machine, a proper closure of the door is essential. If the dishwasher door is not closing correctly, Ramboll gives you a faster solution. We recommend replacement only if it is necessary. Minor problems with the door are repaired for a cost-effective solution.
Our customers highly appreciate our efficiency and quickness in detecting the right cause of the problems. This enables Ramboll to have a loyal customer base across Toronto, Calgary, and other parts of Canada. Apart from the above, we also repair dishwashers giving strange or very loud noise. Regardless of the issue, we can handle all the repairing work efficiently. We are a leading service provider specializing in Dishwasher Repair in Brampton. Call us to get a professional and reliable repair for Samsung dishwasher, Bosch dishwasher, LG dishwasher, and other brands.
Dishwasher Repair in Brampton
The dishwasher is a significant home appliance in modern kitchens. Dirty dishes pile up quickly in the kitchen if the dishwasher is not working correctly. Commercial places like eateries and restaurants also face trouble in the absence of dishwashers. If you are facing any problem in the normal functioning of the appliance, call Ramboll Appliance Service. We offer timely and efficient Dishwasher Repair in Brampton.
When it is about repairing appliances, it is essential to hire a professional and reliable technician. However, it is often difficult to find one on whom you can rely on quality services. Many repairers are not willing to come as per your desired time. Ramboll eliminates all these worries for families and commercial places. We depute experienced dishwasher repairers to your premises at the earliest. The technician will visit you on any day, including the holiday and Sunday.
Why Choose Ramboll for Dishwasher Repair in Brampton

Handling dishwashers require professional expertise. With Ramboll, the customers are entirely sure about the safety of their appliances. Our customers prefer us for numerous reasons.
Cover All Popular Brands
We repair dishwashers from Samsung, Whirlpool, LG, Bosch, and other popular brands. Our technicians have experience in repairing appliances of all these brands with high proficiency.
Quick Repair Services
We understand how a disrupted dishwasher will hamper your routine life. Hence, we arrive at your premises on the same day or as per the scheduled appointment. We also take care of your convenient timings and days.
Highly Experienced Repairmen
Ramboll is a professional dishwasher repair company with a team of dedicated technicians. We are committed to providing effective and long term solutions to every issue your appliance is facing. With us, the customers do not need to take stress about how skilfulness of the repairman.
Transparent Pricing
Our charges for different repairs remain fixed without any additional cost. Our work process does not surprise the customers with exorbitant last-minute fees. As soon as the technician detects the fault, he informs the charges to the customers. The replacement or repair charges are reasonably priced at Ramboll Appliance.
Best Customer Service
We are a friendly team of courteous sales professionals and technicians. We carefully listen to the customers' complaints about the appliance. We make sure to send our technicians upon a single call from our customers. The customers are informed in detail about the issue and the best possible solution.
Hiring the right repairer is crucial, as the quality of repair affects the life of the appliances. Our experienced technicians make correct decisions while fixing the issues and replacing the parts. Our excellent customer service and the right services do us a leading facility for Dishwasher Repair. We carry out every assignment with utmost proficiency.
Apart from dishwashers, we also repair washing machines, water purifiers, ovens, refrigerators, and dryers. Call us to get reliable and timely repair services to ensure quick resolutions. We recommend replacements of the parts with complete honesty. Our services are highly appreciated in Toronto, Brampton, Calgary, and other regions.
Call our technicians if you notice any of the following:
Dryer overheating
Under heating
The tumbling mechanism has stopped working
Longer than usual dry time
Clothes are staying wet after the full cycle
Dryer Won't Stop
Dryer runs but no heat
Dryer no power at all
Dryer not working in automatic cycles
Dryer not working in timed dry cycle
Issues with the digital display
Error code on the electronic panel
Making unusual sounds such as grinding or squealing
Blown fuses, or tripping the circuit breaker regularly
Tearing or dirtying of clothing
Heat element on the dryer is gone
The machine will not start at all
Ramboll Appliances:
FAST, FLEXIBLE, AFFORDABLE RATES
PROFESSIONALLY TRAINED TECHNICIANS
Brands we Repair:
Fisher & Paykel Dryer Repair
White Westinghouse Dryer Repair
Request a service with Ramboll appliance today! 

GTA 905-595-3474.
Brands

We Service
We Care For You Home Appliances