Red Tag

Removal Greater Toronto Area
Natural gas, in its pure state, is colorless, odorless and non-detectable to the human senses. To be able to easily identify it, a non-toxic substance called mercaptan is added to the gas, giving it the distinct smell of `rotten eggs`.
Should you detect natural gas in your home, immediately call your gas supplier. They have emergency procedures in place to handle situations like this. A tech will be dispatched to your home to confirm the leak and shut off your gas supply. (S)he will then provide you with a red tag identifying the reason for the shut-off.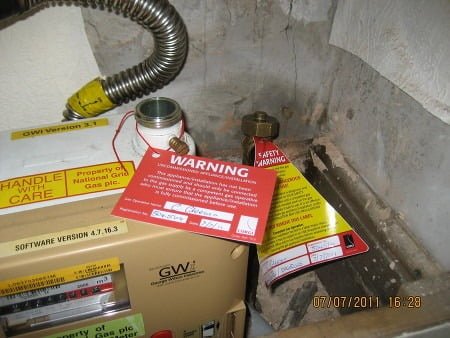 Types of red tags
Type A – This tag indicates there a severe problem and there is an immediate danger to the home. The technician is required by law to turn off the natural gas right away.
Type B – This is a warning tag that indicates the appliance needs to be repaired or replaced, but there is no immediate danger to the home. The natural gas is not turned off, but your utility company is contacted, and you have a set period of time to address the problem. If not fixed within that time, the natural gas will be turned off.
Have you been red tagged?
If you have received a red tag, you should contact Ramboll Appliance immediately!
We have expert technicians who are fully licensed to deal with natural gas and will inspect your equipment safely and efficiently.
Any recommendations that we make for additional repairs of replacements are firmly grounded in our concern for your welfare.
Ramboll Appliances:
FAST, FLEXIBLE, AFFORDABLE RATES
PROFESSIONALLY TRAINED TECHNICIANS
Request a service with Ramboll appliance today! 

GTA 905-595-3474.