Fridge Repair in Brampton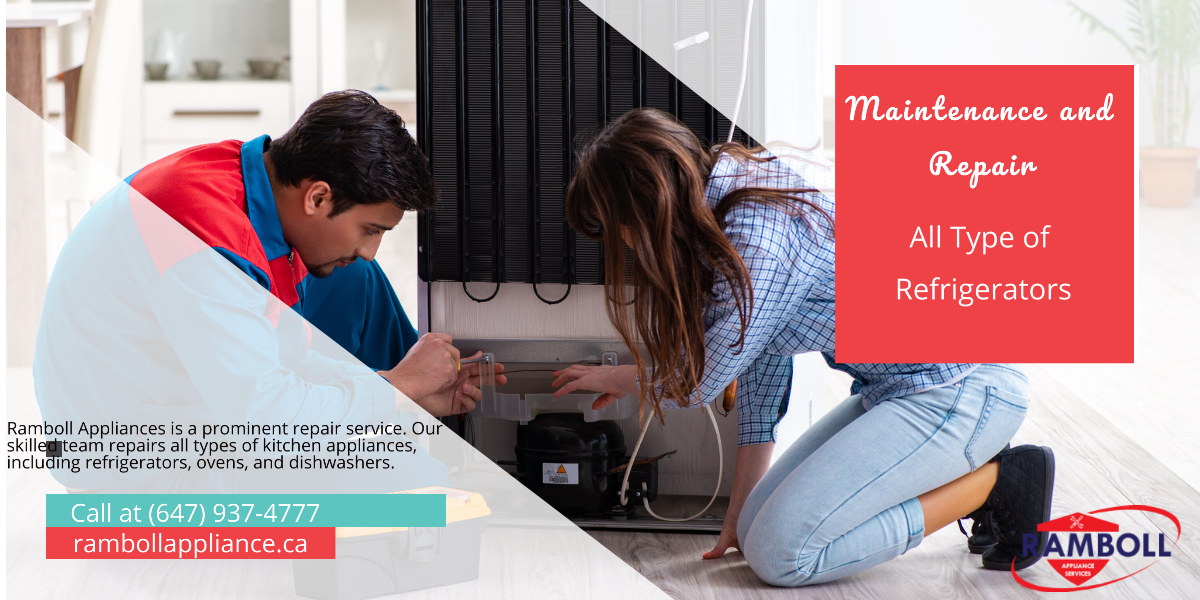 Want fridge repair in brampton solutions? Our professional service technicians are prepared to assist. Schedule a repair online or telephone 647-937-4777 to schedule now.
Is your fridge giving trouble in freezing and keeping the food fresh? Our licensed repairmen visit your premises upon a single call. We diagnose the issue and fix it with the utmost satisfaction of our customers. Our team of technicians is an expert in diagnosing, troubleshooting, and fixing the problems. We are providing quick Fridge Repair to households, restaurants, and other commercial places.
A fridge is one of the most common appliances found in residences and commercial units. A perfect working condition of the refrigerator is essential for health. Any technical issue in this appliance can cause trouble in keeping the food and beverages fresh. Hence, timely repair of the fridge is necessary. Ramboll Appliances is one of the best service providers of appropriate fridge repair in brampton work.
Fridge Repairing Services in Brampton
Ramboll Appliances is a prominent repair service in brampton. Our skilled team repairs all types of kitchen appliances, including refrigerators, ovens, and dishwashers. We cover cooling issues, defrost drain problems, and freezing items in the fridge. We visit your premises at your convenient time as per the scheduled appointment.
As you call us, we depute our engineers to your premises with all the essential tools. Our same day repair services give utmost comfort to the customers. There are no failed visits when you hire Ramboll Appliances. Being a leader in the domain of appliance repair, we are quick in detecting the root cause of the problems. Our ready inventory of essential parts allows us to replace the failed parts at the earliest.
Fridge Repair and Maintenance in Brampton

Ramboll Appliances deputes technicians to any location in Toronto as well as surrounding regions. Whether your fridge is not functioning correctly or not working at all, call us for repair. We scrutinize the appliance and come to the root cause of the trouble. Our accurate diagnosis and repair give a long time solution to the customers. When you hire Ramboll for a fridge repair, there are no frequent expenditures on a repair. We replace the failed parts with high quality branded parts of the same company.
Most Common Fridge Repair Services:
1. Loud noise
2. Insufficient cooling
3. Water leakage
4. Troubles in Defrost
5. Freezer not working properly
We repair all the major brands of refrigerators. Our technicians are skilled in repairing Bosch refrigerator, Electrolux fridge, LG fridge, and Samsung brands. Repairing and servicing are our core business, and we specialize in fridge repair in brampton. If you are looking for timely and efficient Fridge Repair, we have the right solution for you.
Likewise, every other machine, appliances also need regular servicing and timely repair. When it comes to repairing service, hiring a professional repairer is essential. As you hire Ramboll, you are sure that your appliance repair work is with experts. You need not waste time in finding a dependable technician for a quick repair. Our repairman reaches your premises as per your desire for reliable services. Also, rely on us for regular maintenance of your kitchen appliances to keep them in the best working conditions.
Call our technicians if you notice any of the following:
Dryer overheating
Under heating
The tumbling mechanism has stopped working
Longer than usual dry time
Clothes are staying wet after the full cycle
Dryer Won't Stop
Dryer runs but no heat
Dryer no power at all
Dryer not working in automatic cycles
Dryer not working in timed dry cycle
Issues with the digital display
Error code on the electronic panel
Making unusual sounds such as grinding or squealing
Blown fuses, or tripping the circuit breaker regularly
Tearing or dirtying of clothing
Heat element on the dryer is gone
The machine will not start at all
Ramboll Appliances:
FAST, FLEXIBLE, AFFORDABLE RATES
PROFESSIONALLY TRAINED TECHNICIANS
Brands we Repair:
Fisher & Paykel Dryer Repair
White Westinghouse Dryer Repair
Request a service with Ramboll appliance today! 

GTA 905-595-3474.
Brands

We Service
We Care For You Home Appliances